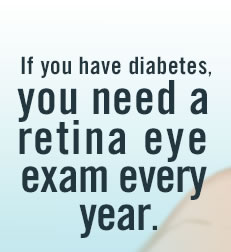 Did you know that 95% of diabetes-related vision loss could be prevented with a regular eye exam?
Diabetes increases the risk of developing serious eye disease, yet most people do not have sight-saving, annual eye exams, according to a large study. Florida Eye Institute joins the American Academy of Ophthalmology in recognizing the importance of eye health this November, observed nationally as Diabetes Awareness Month.
One in 10 Americans has diabetes, putting them at heightened risk for visual impairment. Diabetic eye disease is a group of conditions that include retinopathy, diabetic macular edema (DME), cataract, and glaucoma. Fluctuating blood sugar creates fragile, abnormal blood vessels that grow and leak within the eye, distorting vision. Distortions can advance to blindness if left untreated.
Researchers at Wills Eye Hospital in Philadelphia found that more than half of patients with the Diabetes skip annual eye exams. They also discovered that patients who smoke – and therefore more likely to have signs of diabetic eye disease – were most likely to neglect to have annual check-ups.
Collaborating with the Centers for Disease Control and Prevention, researchers reviewed charts of nearly 2,000 patients age 40 or older with type 1 and type 2 diabetes to see how many had regular eye exams. Their findings over a four-year period revealed that:
Fifty-eight percent of patients did not have regular follow-up eye exams
Smokers were 20 percent less likely to have exams
Those with less severe disease and no eye problems were least likely to follow recommendations
Those who had diabetic retinopathy were 30 percent more likely to have follow-up exams
"The bottom line is – if you have Diabetes you need a retina eye exam every year," states Thomas Baudo, MD, fellowship trained retina specialist with Florida Eye Institute.
"Eye exams are critical as they often reveal hidden signs of disease, and that allows us to begin treatment early," he emphasizes. "Patients are also pleased to discover that a baseline exam with a retina specialist costs no more than any other type of eye care professional."
Looking for a Good Eye Doctor?
Florida Eye Institute specializes in the diagnosis and treatment of diabetic eye disease as well as advanced procedures for cataract, glaucoma, and corneal conditions.   Comprehensive care is available for the entire family, including designer eyewear and the latest bladeless laser vision correction.
Florida Eye Institute has locations in Vero Beach and Sebastian. Most health insurance plans, including Medicare, cover an annual exam with an ophthalmologist. For more information call 772.569.9500 or visit www.fleye.com.
Content Courtesy of AAO & Florida Eye Institute